We are proud to announce that our EXIM Team has successfully obtained the Three-Star Export House certificate from the Directorate General of Foreign Trade (DGFT). The STAR-EXPORT HOUSE is an award granted to exporters who have excelled in international trade and successfully reached a set level of export performance in 2 out of 4 financial years. This certificate has a validity of 5 years and is a credit to our excellent EXIM team.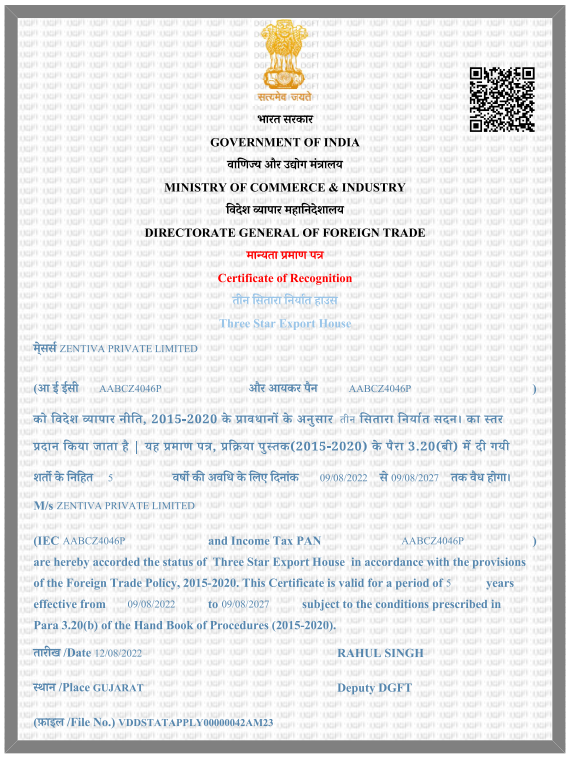 To be eligible for this Status category we had to achieve a high level of satisfactory export performance, exceeding 100 million dollars along with our Import –Export code (IEC). Once these criteria are met, an applicant can receive recognition in any one category; from One Star Export House to Five Star Export House, for their export performance value of 3 million to 2000 million dollars.
As a recognized Star Export House, we can now avail ourselves of benefits and privileges that we previously could not. These include;
Exemption from the furnishing of bank guarantee for Schemes under Foreign Trade Promotion.
Exemption from compulsory negotiations of documents through banks.
Authorization and customs clearance for both imports and exports on a self-declaration basis.
Entitlement for preferential and priority treatment during the handling of consignments by concerned agencies.
Permission to establish export warehouses as per Department of Revenue guidelines.
Exporters involved in manufacturing are now eligible to self-certify their goods as 'origination from India'.
Congratulations to our entire EXIM Team, led by Santosh Nair, and to all our supportive colleagues who helped in achieving this milestone. We are proud to be members of a #WinningTeam.